Puffy Muffin Introduces Iced Sugar Cookie With Proceeds Benefiting Brentwood Green Space!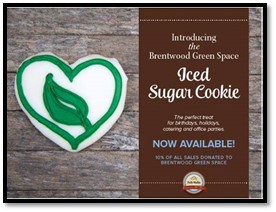 Brentwood-based Puffy Muffin Dessert Bakery & Restaurant just put good taste back into fundraising. On November 1, the restaurant and bakery introduced a new Iced Sugar Cookie in the shape of Brentwood Green Space's logo as part of an ongoing year-long fundraising effort. The over-sized sugar cookie is coated with thick white icing and decorated with green icing in an outline of a heart and leaf design. "We loved the idea," said Lynda Stone, Owner and Founder of Puffy Muffin. "We are very supportive of Brentwood Green Space's efforts to protect the park, open space and trail areas in the city and we felt this was a creative way to support those efforts on an ongoing basis." The cookies are ideal for birthday's anniversaries, company outings, and catered events.
Puffy Muffin has committed to donating 10% from the sale of each cookie to Brentwood Green Space through the end of 2017. The bakery plans to sync the cookie's decorations with popular holidays such as Thanksgiving, Christmas, Valentine's Day, and more. For now, the cookies are only available in the Brentwood location on Franklin Road.
According to Puffy Muffin, early sales of the Iced Sugar Cookie have been brisk. Brentwood Green Space has already been approached by other local companies about doing similar things with their products.
__________________________________________________________________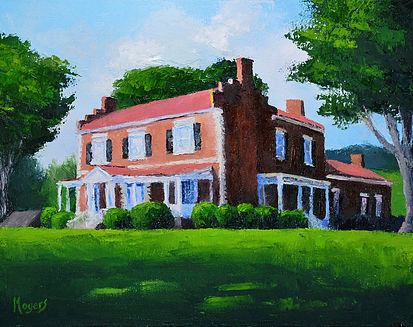 The online auction for the Ravenswood Mansion painting shown above has ended. We appreciate your participating in bidding for this painting. The online auction was held in conjunction with the Brentwood Green Space "Walk in the Park" event held at Vivrette Smith Park on October 30, 2016.
Bidding for the painting ended on November 1, 2016 at 5:00 pm central time. This one-of-a-kind,
"Walk in the Park" commemorative painting of Ravenswood Mansion
was donated by local Williamson County artist Mike Moyers, who is known for his knife-edge style and brightly hued nature settings. You may view the winning bid at:
Painting Auction
All proceeds from the painting, less any costs, will be given to the City of Brentwood by the Citizens for Brentwood Green Space for enhancing Smith Park.
__________________________________________________________________________________________________________________________________________
CBGS Participates in Arbor Day Festivities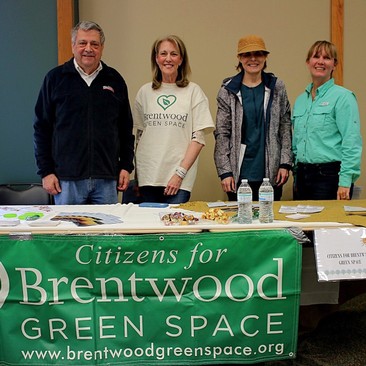 The city of Brentwood's Tree Board held its annual Arbor Day celebration on Saturday, April 2 at the Brentwood Library. The celebration featured activities, balloons for children handed out by CBGS, displays by tree-related vendors, hotdogs, free seedlings, and a visit from Brentwood Fire and Rescue. At the celebration, Citizens for Brentwood Green Space had a display to answer questions from citizens about preserving green space and the current state of build out.
CBGS Reaches Halfway Mark Toward $300,000 Smith Park Goal
Second Annual Walk in the Park
Brentwood 2020 Plan-Final Document
Disappearing Open Space
(Brentwood HomePage Article)
Powell Park Dedicated
Several generations of the Cooper Family and City Commissioners welcome in the new Powell Park. After many years of deliberation and planning,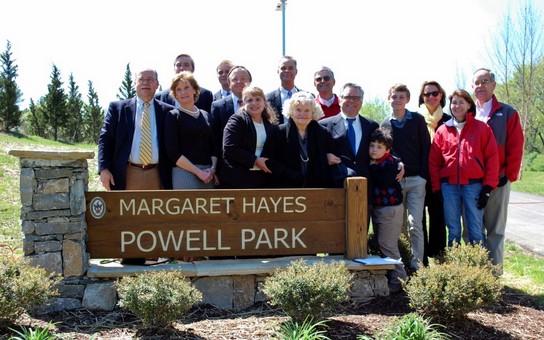 the new Margaret Hayes Powell Park is open for business! The City of Brentwood held a ribbon cutting ceremony this past Saturday, April 20 to mark the grand opening. The 24 acres of passive parkland is located near the southeast corner of Virginia Way and Granny White Pike, right across the street from Brentwood Academy.

According to the City's website: "Ms. Powell was born in 1889 and died in 1970. She was the daughter of Lysander Hayes (i.e. direct descendants to the original McGavock family that settled in Middle Tennessee after the American Revolution). Hayes owned the Midway Plantation, which at one time included the Brentwood Country Club, Meadowlake, McGavock Farms, and the Virginia Springs office park area. Ms. Powell grew up on this property, rode horses, etc. When she became an adult, she married a Powell and moved to Johnson City, Tennessee."

Brentwood now has 11 active parks, covering over almost 888 acres of parkland.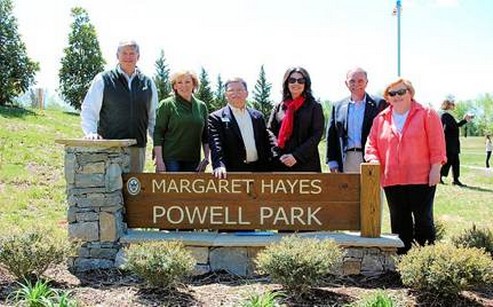 Brentwood City Commissioners Dedicate new Powell Park

__________________________________________________________________________________________________________________________________________